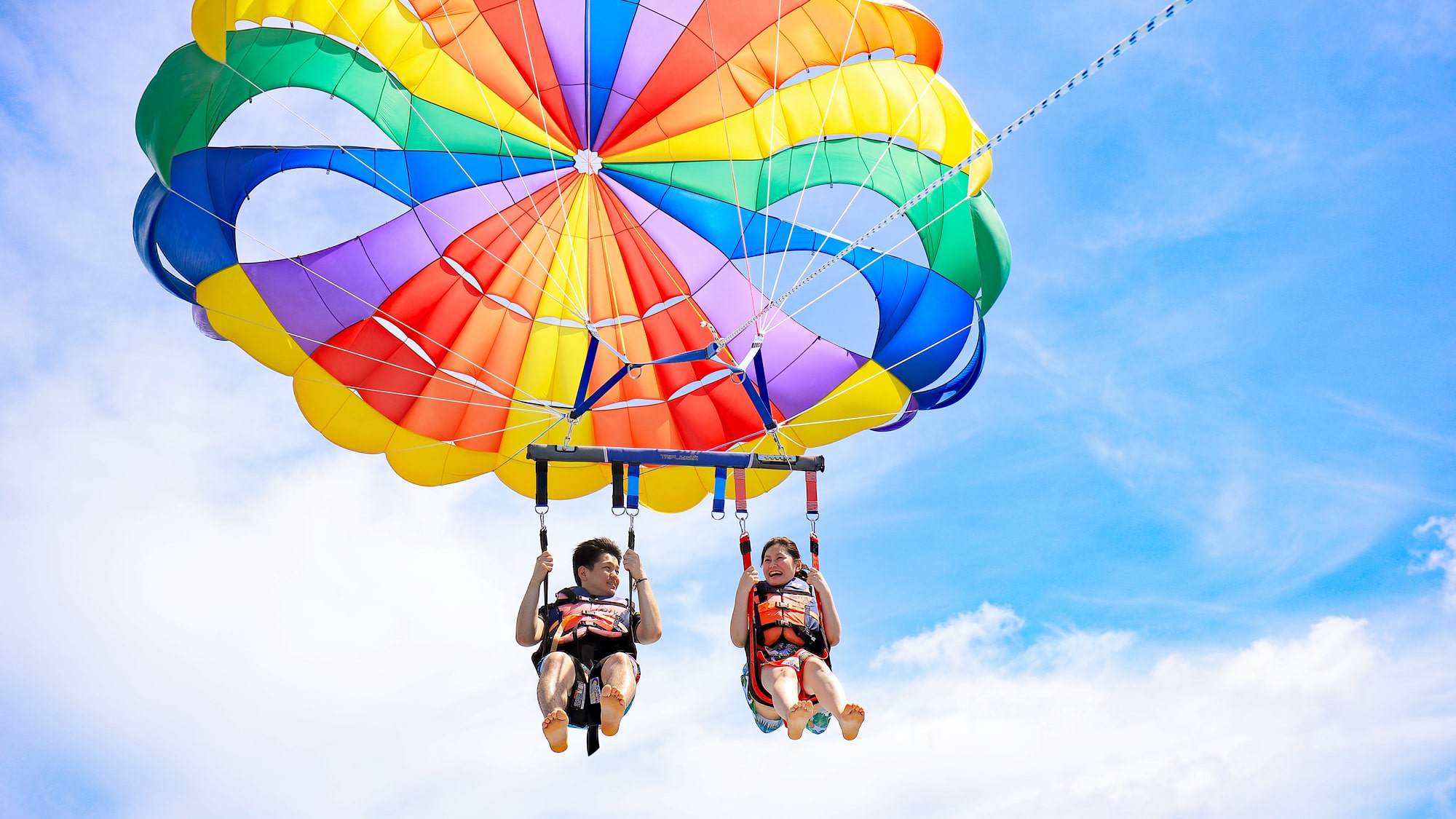 Enjoy a stroll in the sky!
Take in the scenery like never:
Discover a unique view on both sky and sea, and feel like a bird!

Come and enjoy this incomparable breath of fresh air in the Okinawan skies!
Tour Highlights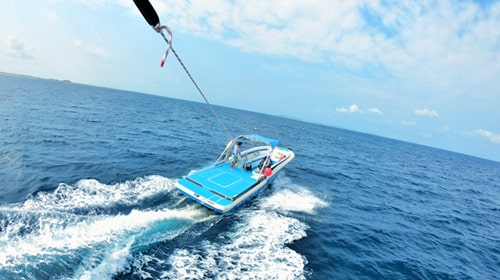 Tour held in the Kerama National Marine park!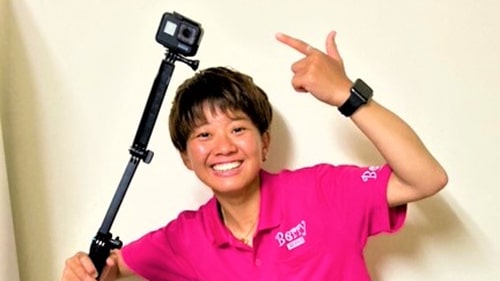 Borrow a GoPro free of charge to record your aerial adventures!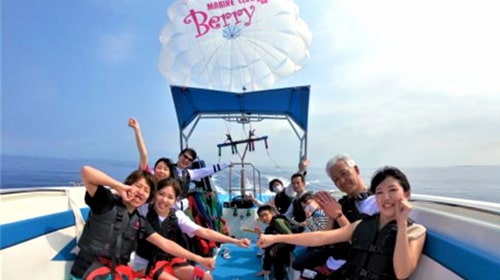 Choose your time! We offer three departures a day!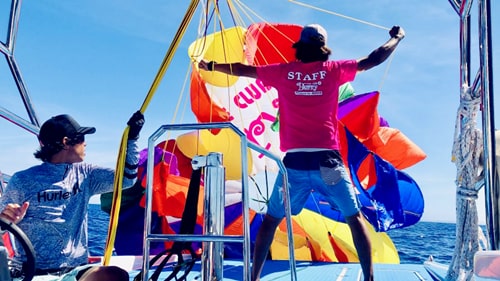 Operated by experienced staff only. Top-priority: your safety!
FREE Service

Tour Itinerary
Gathering

We will meet up at BERRY NAHA.
If you come by your own means, please be there at least 10 minutes in advance.
Please refer to the access page for hotel transfers service and car park information.

Check-in

At check-in, we will fill in the necessary papers and go to the port to depart.

Parasailing

After our guide briefs you, let's head up to the sky!
While you enjoy your aerial stroll, listen to music or admire the Keramas from this unique angle!

Return

After returning to port let's head back to our shop and check you out. If you had opted in for transfers, we will take you back to your hotel.
*This tour lasts around 60 to 100 minutes counting from meeting to the check-out depending on the number of participants.
General Information
Book for 6 people or more and get a ¥1000 discount per person
Prices

JPY 7,000

Includes
・Boat ride fee
・Guiding fee
・Go-pro rental
・Hotel pick-up and drop-off
・Parking
Duration
1.5 hours
Departure times
Apr-Oct:08:00 / 13:00 / 17:00
Nov-Mar:08:00 / 10:30 / 13:00 / 15:30
Requirements
・Age limitations : 6 to 65 y.o (*Children under 5 are not allowed on board.)
・Height limitations : 120 cm and above
・Weight limitations : 20 to 120 kg
・For safety reasons we cannot let you join an activity or board a ship if any of these conditions apply to you:
 ☐ Pregnant lady, or are you attempting to become pregnant ?
 ☐ History of epilepsy, seizures, convulsions or you take medications to prevent them.
 ☐ Currently suffering from serious illness
 ☐ Wheelchair person
Remarks
・For time 17:00, the minimum number of passengers required is four. This tour will be cancelled if the required minimum numbers not being reached.
・Note that this tour may be cancelled due to the weather or sea conditions. We will inform you of any such change the day prior to the tour.
・Participants under the age of 18 need a consent signed by a guardian. Age 6-12 childrens must be accompanied by an adult to participate in this tour.
・Please make sure that you read and understand our Cancellation policy before booking.
Bring with you
・Clothing fit for water activities (*avoid wearing skirts.)
・Sandals (*avoid high heel.)
・Drinks (*no alcohol allowed onboard.)
・Motion sickness medicine (If you get seasickness or carsickness easily, please prepare the medicine on your own. We do not provide medicine at the shop.)
Meeting point
Marine Club BERRY NAHA
【Address】〒900-0001 2-3-13 Minato Machi, Naha, Okinawa,
【Map Code】33246627*42
【Free Transfer】Please check BERRY Naha Hotel Transfers Service page
【Free Car Park】Please check BERRY Naha Free Parking page 
Other activities at NAHA
Half Day Tour Combo
Want to try more activities during the half day tour? Then book an activity package!

ALL You Can Play: Introductory Diving + Snorkeling + Tubings + Parasailing
Combo A: Parasailing + Snorkeling
Combo B: Parasailing + Snorkeling + Tubings
Combo C: Parasailing + Introductory Diving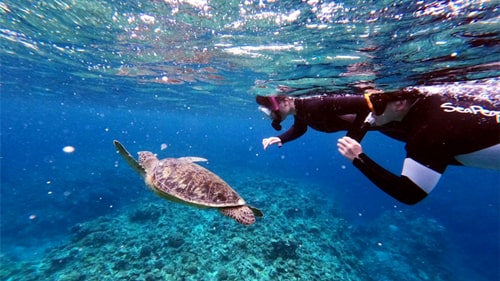 Let us take you to the "Kerama Blue", a world full of colourful fish and corals!!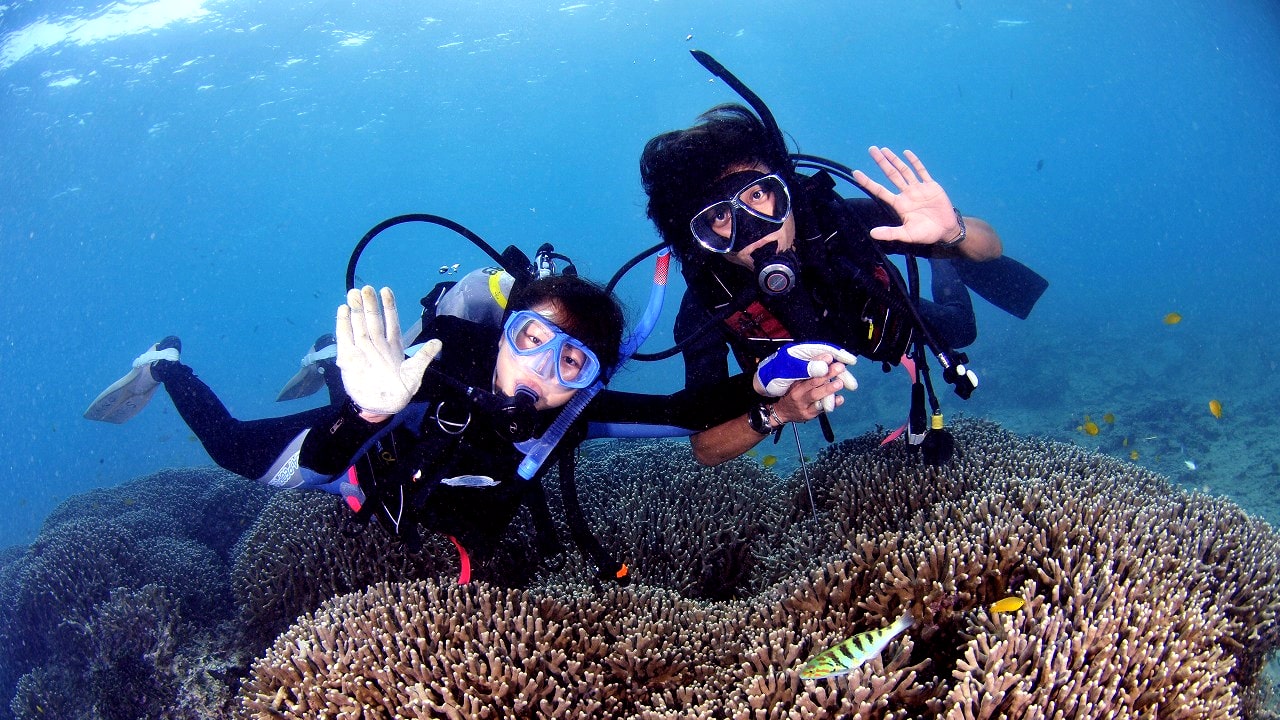 In a mood for more thrills? Go on an introductory dive! No diving license needed.
Other branches