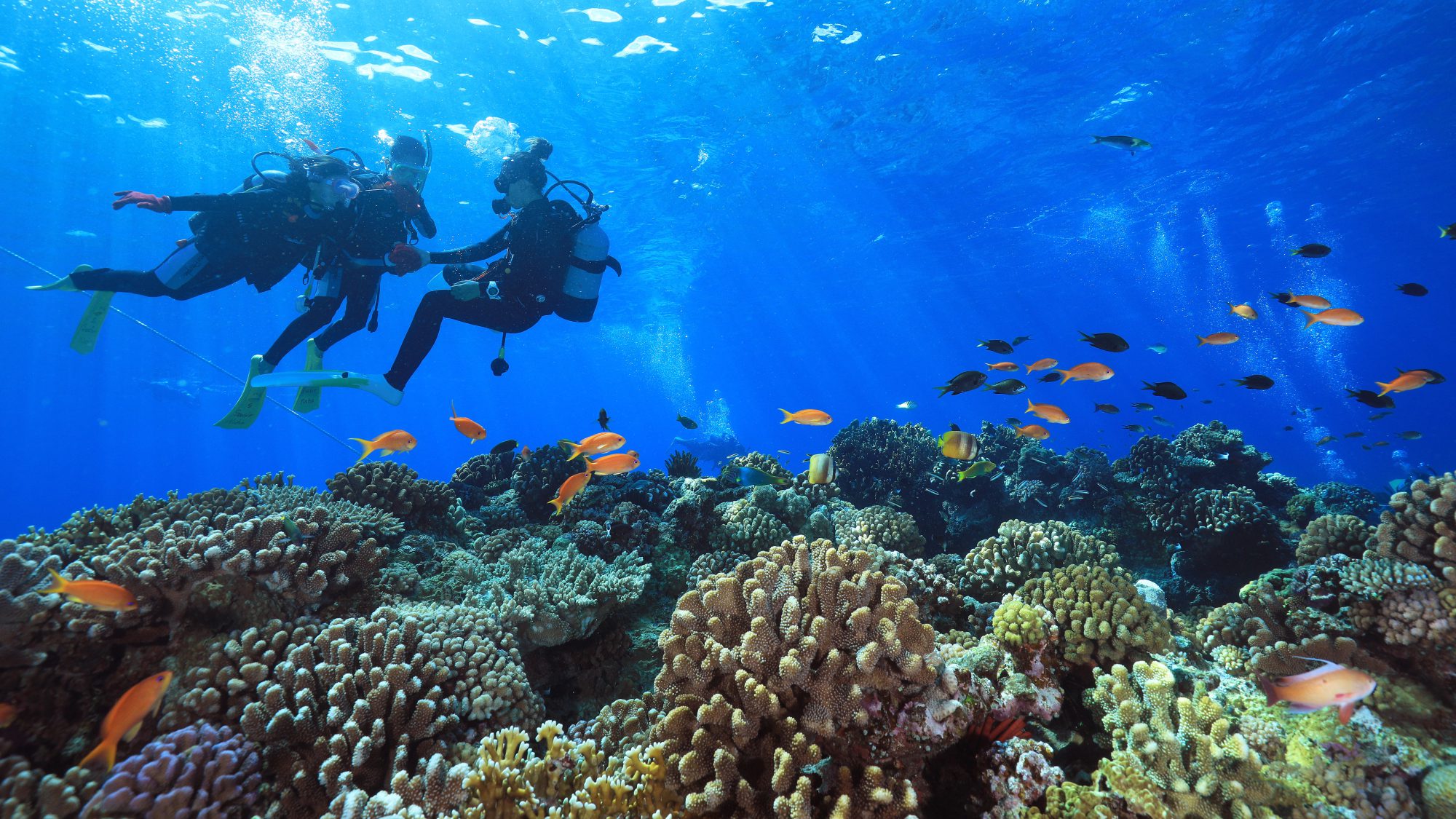 Jump into a new world
Let our professional instructors guide you through the crystal-clear waters of Okinawa.
Here, all seasons offer their share of marvels!

We usually dive at the Kerama National Marine Park.
So prepare yourself for the experience of your life:
the visibility here is world-class!
Tour Highlights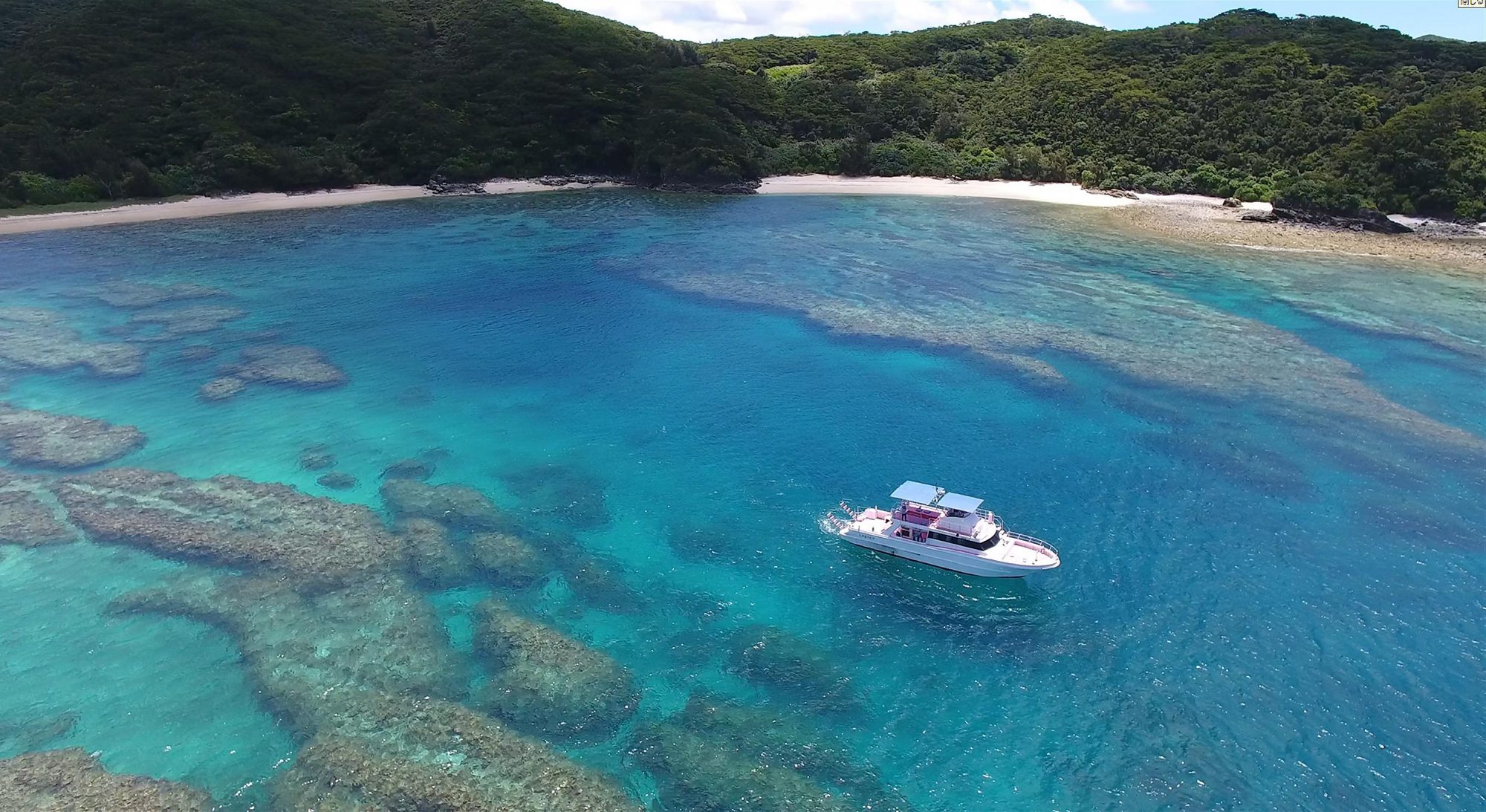 Tour held in the Kerama National Marine park!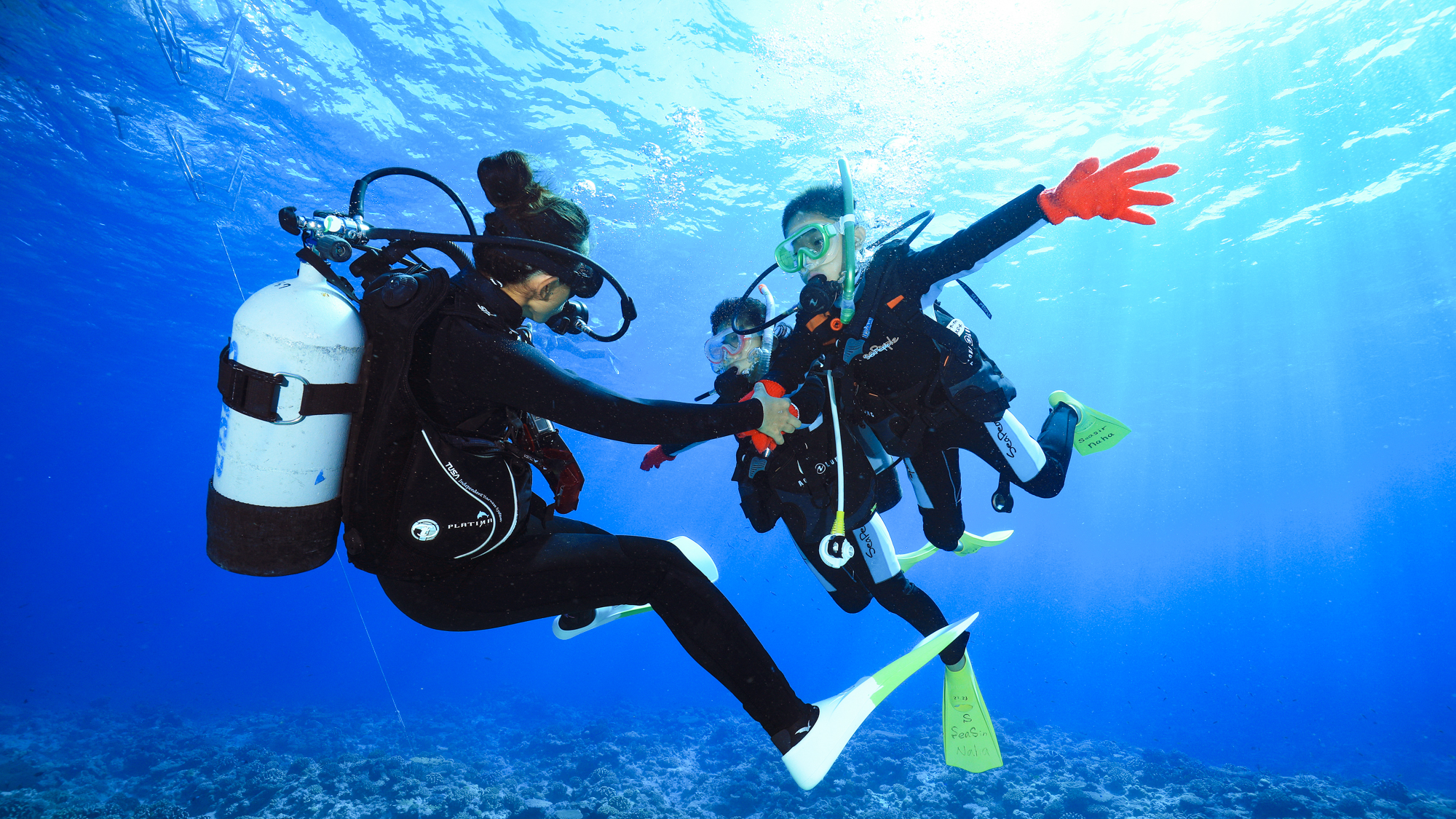 You will be put in pairs under a certified instructor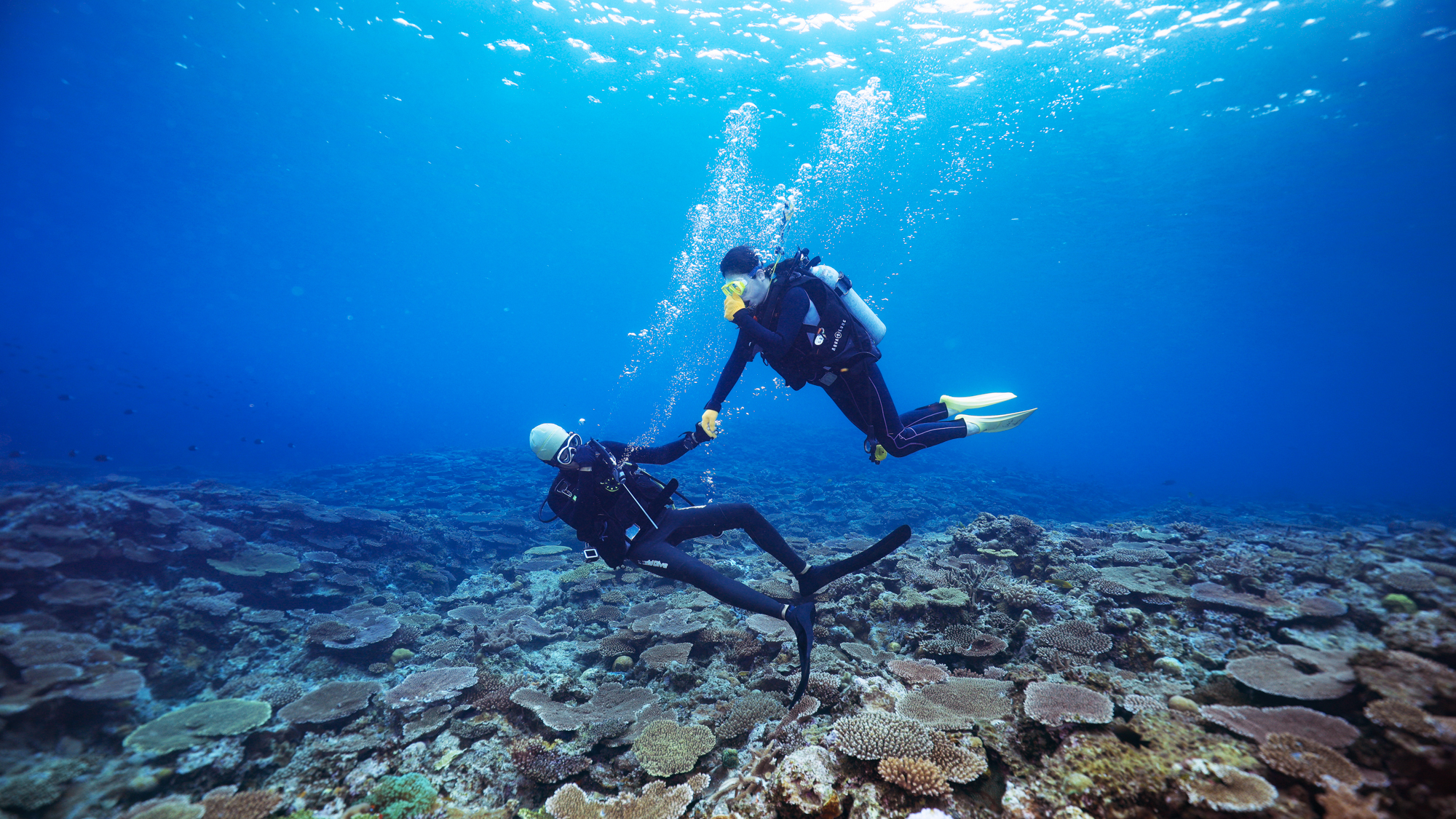 We stop by three spots to enjoy different sceneries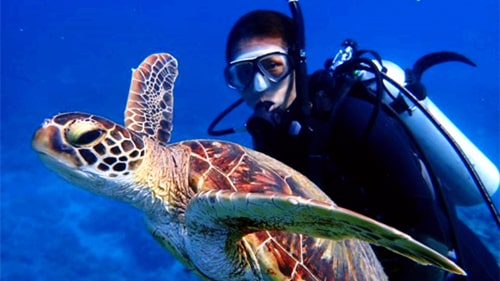 Peel your eyes on the sea turtles while diving!
FREE Service

Tour Itinerary
8:00

Gathering

We will meet up at BERRY NAHA.
If you come by your own means, please be there at least 10 minutes in advance.
*Please refer to the access page for hotel transfer service and car park information.

8:30

Gear set up

After checking in, we will set you up with your gear and make sure that it fits you.
All gear is sanitized daily.

9:00

Departure

Let's get on board and have your instructor brief you about your day with us:
they will show you around the boat and you will change into your wetsuit.

10:00

1st & 2nd dive site

When we head to the Kerama National Marine Park, your instructor will teach you how to use your gear.
You will have time to practice using it before going in the water.

12:30

Lunch

Time to enjoy your Okinawan lunch box!
You are welcome to bring your own food if you have a specific diet.

13:30

3rd dive site

After lunch, we move to a different spot for snorkelers to enjoy another seascape.
Introductory divers can choose to snorkel in the afternoon, rest on board or opt for extra dives*.

15:00

Heading back to Naha

Hot showers and changing rooms are provided on board. You will have time to use them as we head back to Naha.
Ask us for a bath towel if needed.

16:00

Going home

Once in Naha, we will proceed with the payments before driving you back to your hotel.
If you opted in for transfers, the time of drop-off can vary but you can expect to be back at around 5pm.
General Information
Book for 6 people or more and get a ¥2000 discount per person
2023/4/1-5/2
2023/5/7-6/30
2023/10/1-2024/3/31
2023/7/1-14
2023/9/1-30
2023/5/3-5/6
2023/7/15-8/31
1 dive
JPY 12,500
JPY 13,500
JPY 14,000
Price includes
・One boat dive
・Equipment rental
・Guiding fee
・Towel
・Lunch box
・Drinks
・Hotel pick-up and drop-off
・Parking
・Photo services
Opening periods
All year round, daily.
Duration
9 hours
Requirements

・

Age restrictions: between 10 and 60 years old.


・Please check our Health check list and note that for your own safety we will not be able to let you go on a tour with us if your answer to one of those questions is 'Yes'.
・Please be aware that you cannot board a flight within 18 hours after diving.
Remarks
・Note that tour may be cancelled due to the weather or sea conditions. When possible, we may just change our destination. We will inform you of any such change the day prior to the tour.
・We can assign a multilingual instructor or guide to you whenever possible. Note that it may not always be possible.
・As long as our guide can ensure your safety, they will take photos for you throughout the tour. We'll give you a URL link after the tour so that you can download the pictures to their device.
・As we cannot change the content of the lunch boxes on the day of the tour. So, you are welcome to bring your own food if you are a vegetarian or have a specific diet.
・Guest can rent an underwater camera at our shop. The number of cameras is limited, so please request one upon booking.
 (The price is JPY 3,000, including an underwater Camera, housing, and an SD card)
・Wearing a wetsuit or a life jacket during our tours is mandatory.
・Free-diving is not allowed at any time during this tour.
・The extra dive for introductory diving 2nd/3rd dive is requested on the boat only. It is at an additional charge of JPY 4,000 for each dive. (Please pay it at the shop on the day if needed.)
・Please make sure that you read and understand our Cancellation policy before booking.
Things to bring with you
・Swimsuits (*We suggest you wear a swimsuit beforehand.)
・Sandals (*Avoid high heels.)
・Change of clothes
・Motion sickness medicine (*If you get seasickness or carsickness easily, please prepare the medicine on your own. We do not provide medicine at the shop.)
Meeting point
Marine Club BERRY NAHA
【Address】〒900-0001 2-3-13 Minato Machi, Naha, Okinawa,
【Map Code】33246627*42
【Free Transfer】Please check BERRY Naha Hotel Transfers Service page
【Free Car Park】Please check BERRY Naha Free Parking page 
Other activities at NAHA
Half-day tour Combo
Want to try more activities during the half-day tour? Then book an activity package!
ALL You Can Play: Introductory Diving + Snorkeling + Tubings + Parasailing
Combo A: Parasailing + Snorkeling
Combo B: Parasailing + Snorkeling + Tubings
Combo C: Parasailing + Introductory Diving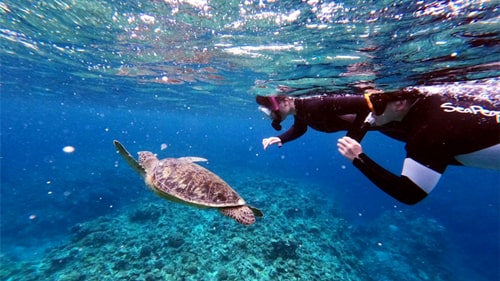 You could visit up to 3 different sites in the Kerama islands in a Full-day tour! Let us take you to the "Kerama Blue", a world full of colorful fish and corals!!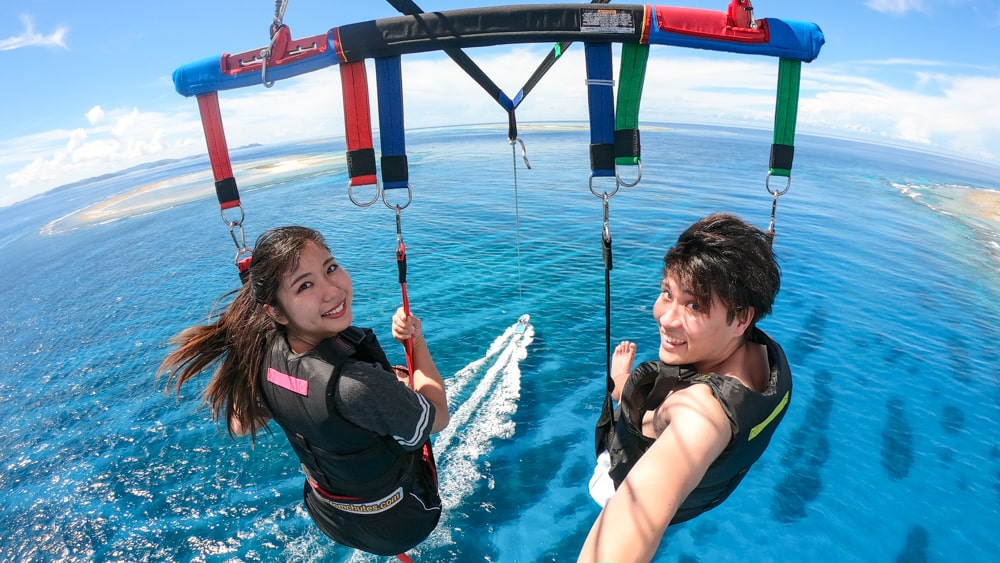 For more speedy fun, you can choose parasailing alone! Here is a unique breath of fresh air in the Okinawan skies. You can get a great panoramic view of the Kerama Islands.
Other branches