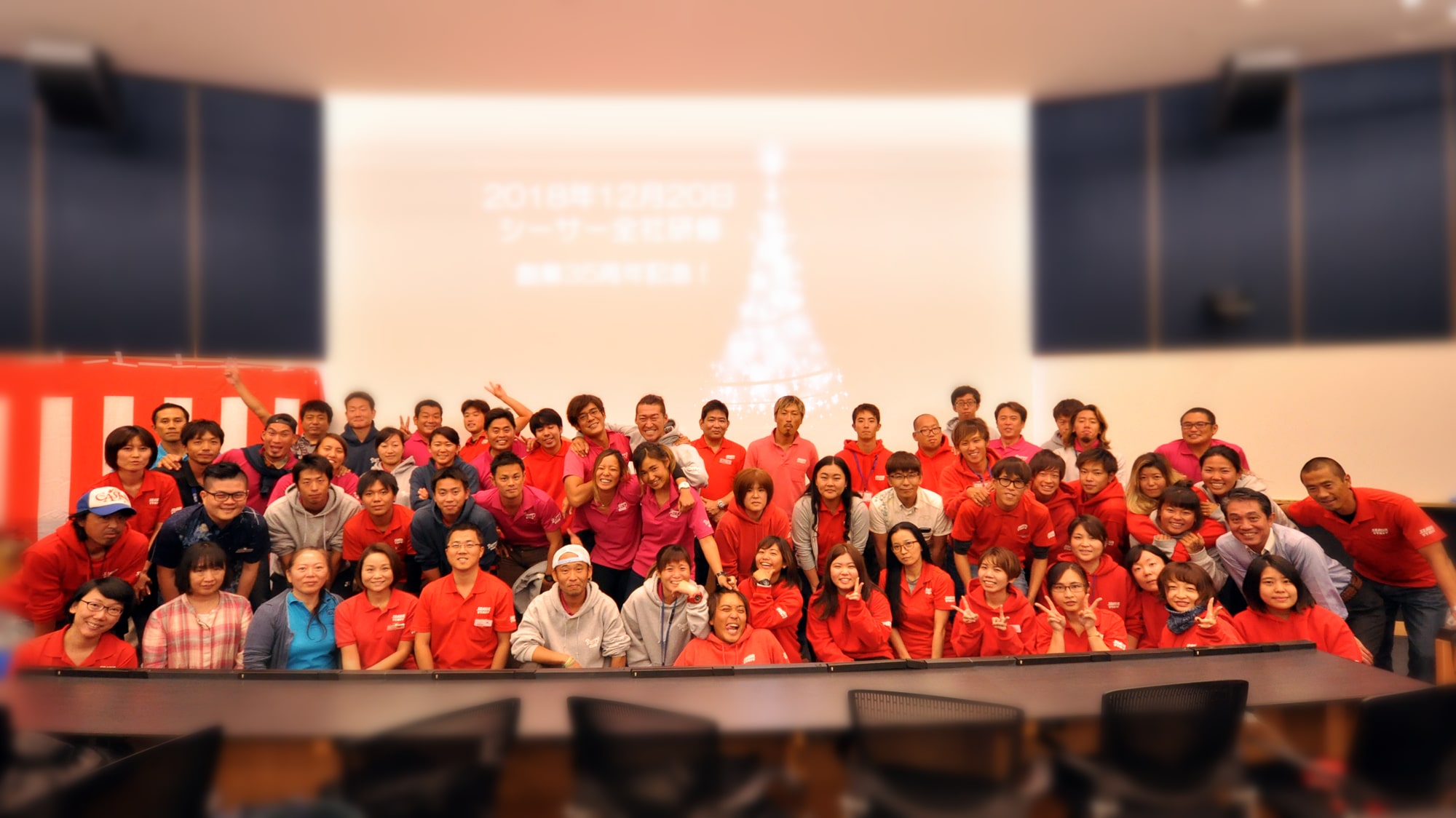 About us
SEASIR Ltd. operates Marine Club BERRY and started as a diving shop on Aka island in 1983.
From there, SEASIR has grown into the largest Okinawan marine leisure company existing to this day.

In Okinawa, we operate 4 scuba diving and marine activity shops, a marine equipment store, an overhaul center, a hostel, a pension, and a travel agency.
In 2019, we also opened a diving shop in Cebu in the Philippines.

Our company vision is to be a gateway for anybody to discover the wonders of Nature
and to inspire them with the drive to protect this exceptional heritage that is the sea.
Company information
Company name
SEASIR Ltd
CEO 
Hideshi INAI
Capital 
JPY 48,000,000
Our business
・Marine leisure services
・Diving instructor education
・Diving equipment wholesales & retails
・Diving equipment development
・Food service(Aka island)
・Accommodation(Aka island, Naha)
・Travel agency
Head office
Adress 2-2-2, Minato-machi, Naha. Okinawa 900-0001
Our history
1983/07


Our first diving shop "SEASIR AKA" opened on Aka island.

1997/02


1998/03


SEASIR MIHAMA opened in Chatan. The shop was equipped with its own diving pool and equipment shop.

1999/05


2000/05


2002/03


Launch of "LOVE", our largest diving cruiser.

2002/09


SEASIR became a joint-stock company.

2005/04


Opening of our hotel at SEASIR AKA.

2008/08


Launch of our Premium Brand, Dive&CRUISE "La mer riche".

2011/12


SEASIR MIHAMA closed.
The shop reopened as the "Uminchu shoten" equipment store in Naha.

2012/05


2014/07


Our "LINE" diving cruiser sets sails for the first time.
Launch of half-day tours.

2015/01


Start of "SEASIR travel", our online travel agent for foreign travelers.

2015/07


Opening of "MyPlace", our guesthouse located in Naha.

2016/03


SEASIR ranked in the top 100 companies promoting diversity.

2016/08

Inauguration of "LAGOON", our third diving cruiser.

2017/02


The head office and our Uminchu store relocated in front of SEASIR NAHA.

2017/04

2020/04

Start of our parasailing tours in Naha.